This is great, branded promotional gift idea that is inexpensive, demonstrates to your client or prospect you care and will be seen at least 50 times.
A pocket spray hand sanitizer is the perfect giveaway!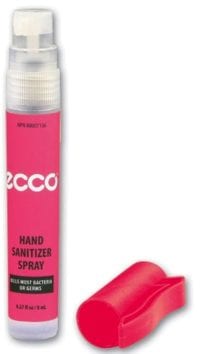 Everyone uses pocket hand sanitizers at this time of year. With cold and flu season around the corner people will be hand sanitizing more often and if they could pull a spray sanitizer out of their purse or coat pocket they will be thinking of you every time.
I am not in the promotional business, but I did a little research and you can order 250 of these for about $1.75 each.  With the one-time set-up fee of $50.00 and shipping you are looking at about $2.00 per sprayer. See specs below.
With 50 sprays per unit your gift will be top of mind all fall and winter.
Specs:
Alcohol base, non-stick formula 50+ Sprays
Great idea for people on the go! It can fit into a purse or even your pocket
Cap Color : Yellow, Blue, Black, Pink, Green, Red and Frosted
Dimensions : 4.7″ x 0.87″
Imprint Area : 1″ x 1.25″
Alcohol-base or alcohol-free hand sanitizer spray with custom 4-color process label
Special non-stick formula
If you are interested in Limelight creating the design and ordering them for you please call Mike Blaney at 800-568-8338 or email me at info@limelightmarketing.ca.