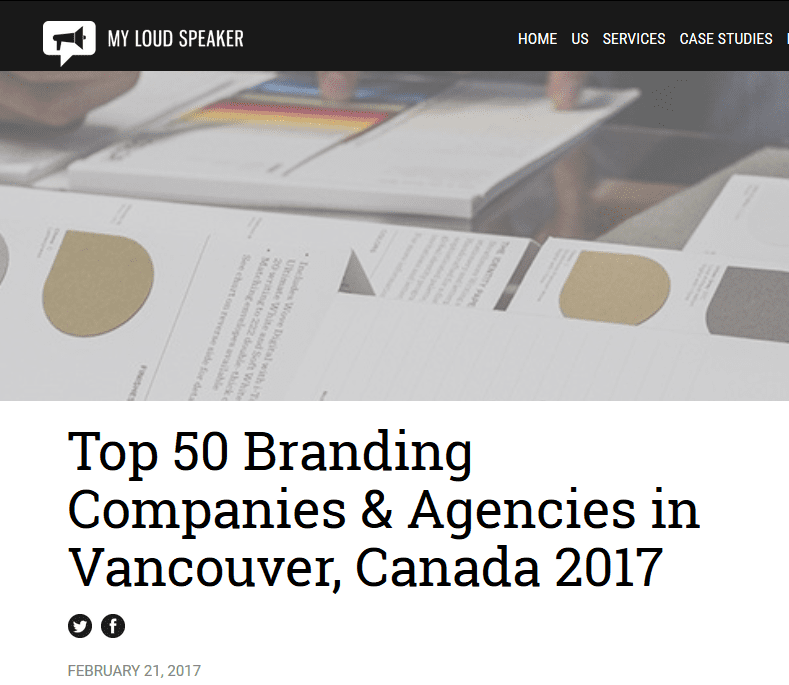 A recent study of Vancouver Branding companies and agencies by Akihiro Nomura, an SEM/Digital Marketing Specialist at My Loud Speaker has Limelight Marketing tied for 15th with Blast Radius.
The study ranks the 50 companies in order of their monthly Google search volumes using Google Keyword Planner. "For the record, this list isn't in order of the quality of the marketing agencies – just the search volumes. However, this could be a reflection of how good they are at gaining exposure for themselves or that they've simply been in business for a long time."
Akihiro writes "I would say that there are 2 types of branding out there: Marketing-led branding vs. Design-led branding. Marketing-led branding goes far beyond just a logo or website. It pushes past typefaces and colours. Your brand is how your audience perceives you. It's their first impression of you.  Through branding, you have the power to tell your story in a way that makes a memorable impact. Our agency gets real results by taking an authentic approach and beginning with a creative strategy."
At Limelight Marketing we are definitely a Marketing-led agency. Check out our Portfolio and Testimonials as proof.
"Branding can be an arduous, soul-searching and highly philosophical process. And although it's a process filled with seemingly subjective decisions, we've noticed that companies that have a strong idea of their vision, mission and values, tend to be able to build the strongest brands.  These companies have marketing-led branding.  Their goal is to have all their materials reflect one common goal and message."
"The flip side of the coin is Design-led Branding. This is where clients want to make their blog, brochure or website 'cool', 'modern' and 'fresh'. While this is still strategic, it's priority isn't to reflect the brand's marketing message, rather to focus on the aesthetic look"