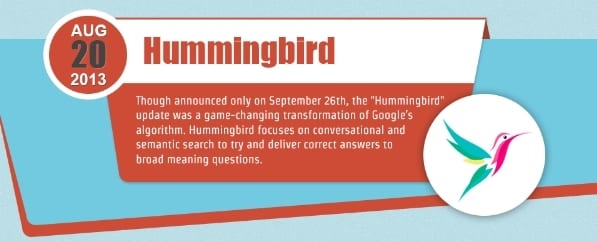 This is an excerpt from the website Searchengineland.com which is an excellent source of search information.
"Hummingbird" is the name of the new search algorithm that Google is using as of September 2013, the name comes from being "precise and fast" and is designed to better focus on the meaning behind the words.
Hummingbird is paying more attention to each word in a query, ensuring that the whole query — the whole sentence or conversation or meaning — is taken into account, rather than particular words. The goal is that pages matching the meaning do better, rather than pages matching just a few words.
Google Hummingbird is designed to apply the meaning technology to billions of pages from across the web, in addition to Knowledge Graph facts, which may bring back better results.
What does this mean to you? To say it is a game changer is an understatement. The websites that respond to the change will definitely rise in the rankings so that only leaves the other ones the option of falling in the search results.
How are we responding to Hummingbird? In some ways it is business as usual as we have always created websites that provide useful, topical information to visitors in context, but we are more focused on adding original content throughout a website that reflects the type of search term we are hoping to rank for. For example if you are a Realtor and you want to rank well for the search term "Edgemont Village Homes For Sale" then we make sure the content of your website is related to the area and makes your website authoritative.
In a recent tweet we said "If you optimize an Ubertor website for visitors, there's almost no chance that a Google algorithm update will penalize you. We do SEO right!"
If you optimize a #Ubertor website for visitors, there's almost no chance that a Google algorithm update will penalize you. We do SEO right!

— Mike Blaney (@GoodIdeas) December 11, 2013