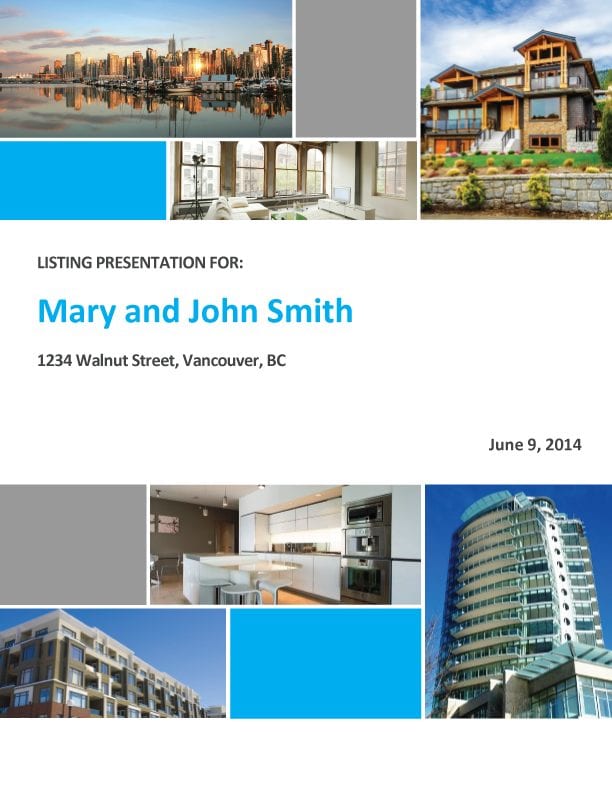 What goes into a listing presentation is often a personal preference. However, most Realtors start with a canned listing presentation provided by their company. Look at your listing presentation and count how many pages are about you vs the client and the sale of their home. If more than 25% is about you then read on, everything else is clouding the picture of what they want to see.
Your listing presentation should reflect your experience in selling homes, creating a marketing plan, designing collateral material to sell a home and the ability to negotiate and ensure a seamless sale. A seller is looking for someone who can sell houses.
What should be in your listing presentation?
First thing to remember is what the seller is thinking as you are presenting:
How much are you going to sell my house for?
When will you sell it?
When do I get my money?
Here is the table of contents that I recommend for a seller-centric listing presentation:
A nice looking personalized cover with the vendors name and your contact information
A one page About Us
A one page About Our Company (if it is a brand with impact)
Comparative Market Analysis – With your comparison listings behind
Tax Records and any past MLS Listings for the property
Marketing Plan for their home – Calendar of events related to listing and selling their home
Commission chart handout (optional)
Listing Contract Paperwork
Testimonials
Preparation For Showing
Home Selling Process
Frequently Asked Questions – Pose the questions that you want them to read an acknowledge like What can we do to improve the appearance of our house? What is home staging and how will it help sell our house? Where Do Buyers Come From?
Pages to delete in your current listing presentation:
Who We Are
Our Mission Statement
Our Value Statement
Our Vision
Our Story
Our Team
What makes us different
Our Services
Our Pledge
Why You Should List With Us
What You Should Expect From Us
If you are interested in an effective listing presentation that sets you apart from other Realtors please call us at 604-618-5512 or toll free 800-568-8338 or contact us by clicking here.